​​PUMLx Token Amps Up Move-to-Earn With In-App Utilities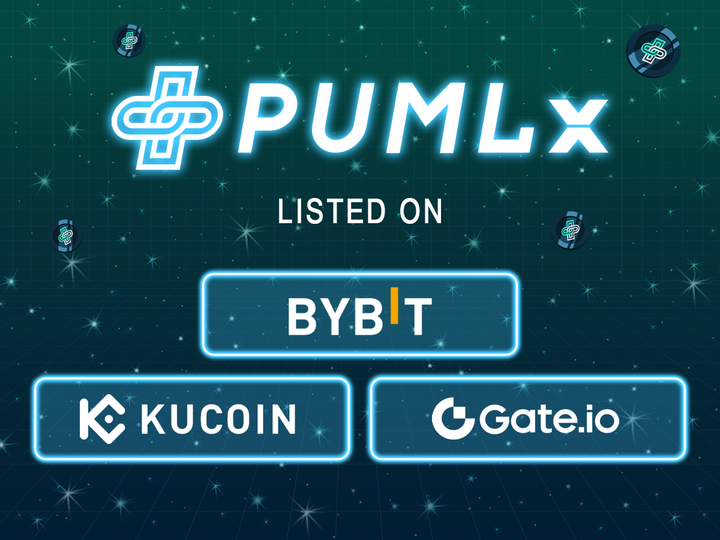 In mid-October 2022, PUML announced the launch of its newest endeavour: PUMLx. Tokens that build the foundation for the world's first Fitness Metaverse. Built on the Ethereum platform, PUMLx tokens are true crypto assets compatible with third-party wallets, exchanges, listings, and more.
How does this fit into the existing PUML ecosystem?
Most people are familiar with the PUML app. This revolutionary move-to-earn platform rewards and engages users through gamification technology and social features that incentivise better health and well-being.
In the PUML app, the user rewards come in the form of PUML tokens. These tokens can then be exchanged for real-value items, from gift cards to NFTs. They can also be donated to a number of different charities.
PUML Tokens vs PUMLx Tokens
While PUML tokens are blockchain built and operate on MoveFi principles, they are in-app-only and operate more like Web2 game tokens. They bridge the gap between Web2 and Web3, making it easier for novice Web3 participants to engage with the PUML app.
PUMLx, on the other hand, is a Web3 cryptocurrency asset. It is built on the Ethereum platform, and unlike PUML tokens, it's compatible with third-party wallets, exchanges, listings, and other Web3 systems. This gives PUMLx tokens superpowers that are not useable through the in-app-only PUML tokens.
PUMLx Utilities
PUMLx is PUML's DeFi (decentralised finance) coin that will have wide utility both in an outside of the PUML ecosystem. It can be used to buy Athlete NFTs and other assets, be staked for yields, be swapped for other assets, and be used in market trading.
Essentially, PUMLx can do everything a normal crypto asset can:
Staking — Staked on the PUML App and allow an estimated 250% APR year one;
Trading Fees — Trading fees collected by the protocol are distributed to PUMLx stakers as rewards from our NFT Athlete and Sports Marketplace.
In the PUML ecosystem, PUMLx acts as a way for investors to purchase PUML's Athlete NFTs and digital wearables with their own wearable NFT utilities.
PUMLx is currently listed on a number of exchanges. Visit https://pumlx.com/#Listed for more information.
Introducing WearX
PUML's Genesis WearX Collection features 5000 NFTs that are hand drawn and algorithmically generated by the in-house NFT studio at PUML. The NFTs come in more than 600 different trait designs, colourations and variations, such as watch bands, backgrounds, faces, accessories and models.
Like PUMLx, the WearX NFTs are developed and distributed on the Ethereum blockchain. They are digital wearables with real gameplay in the PUML app and DeFi ecosystem. They each feature three primary utilities:
Battery — encouraging users to claim their PUMLx bonuses, the battery displays how often a user will have to charge the battery to continue claiming the activity bonuses.
Damage Resistance — to keep users active, the watch becomes unusable when the lifespan of the watch reaches 0. This begins on the first claim day.
Distance — steps can be claimed on the watch but NFTs range in rarity and impact how many steps. The rarer the NFT, the more steps can be claimed.
More info will be available soon on WearX and its use in the PUML App.
Earning PUMLx
While the move to Web3 marks a massive shift in PUML's capabilities and features, the experience for users remains the same: move to earn. And existing holders of the PUML token can now Burn PUML to PUMLx and enter into the Web3 MoveFi world.
Simply download the PUML app, register and participate in physical and wellness challenges, collect PUML tokens and convert them in the app to PUMLx.
Whether you're participating with PUML or PUMLx, you can use the tokens in the same way in-app. What changes is the access to Web3 utilities. Those who want to use PUMLx like a crypto asset can do so, and those who wish to use the tokens as they have before can do that too.
Learn more about PUMLx here.
How to use the app:
View our new guide on how to navigate PUML and its current features. Download it today and start earning.