PUML is designed for simplicity, so earning for being active
has never been easier.
Sign up to health challenges
PUML features both physical and wellbeing challenges which you can complete to earn PUML in-game tokens. No NFT is needed to earn!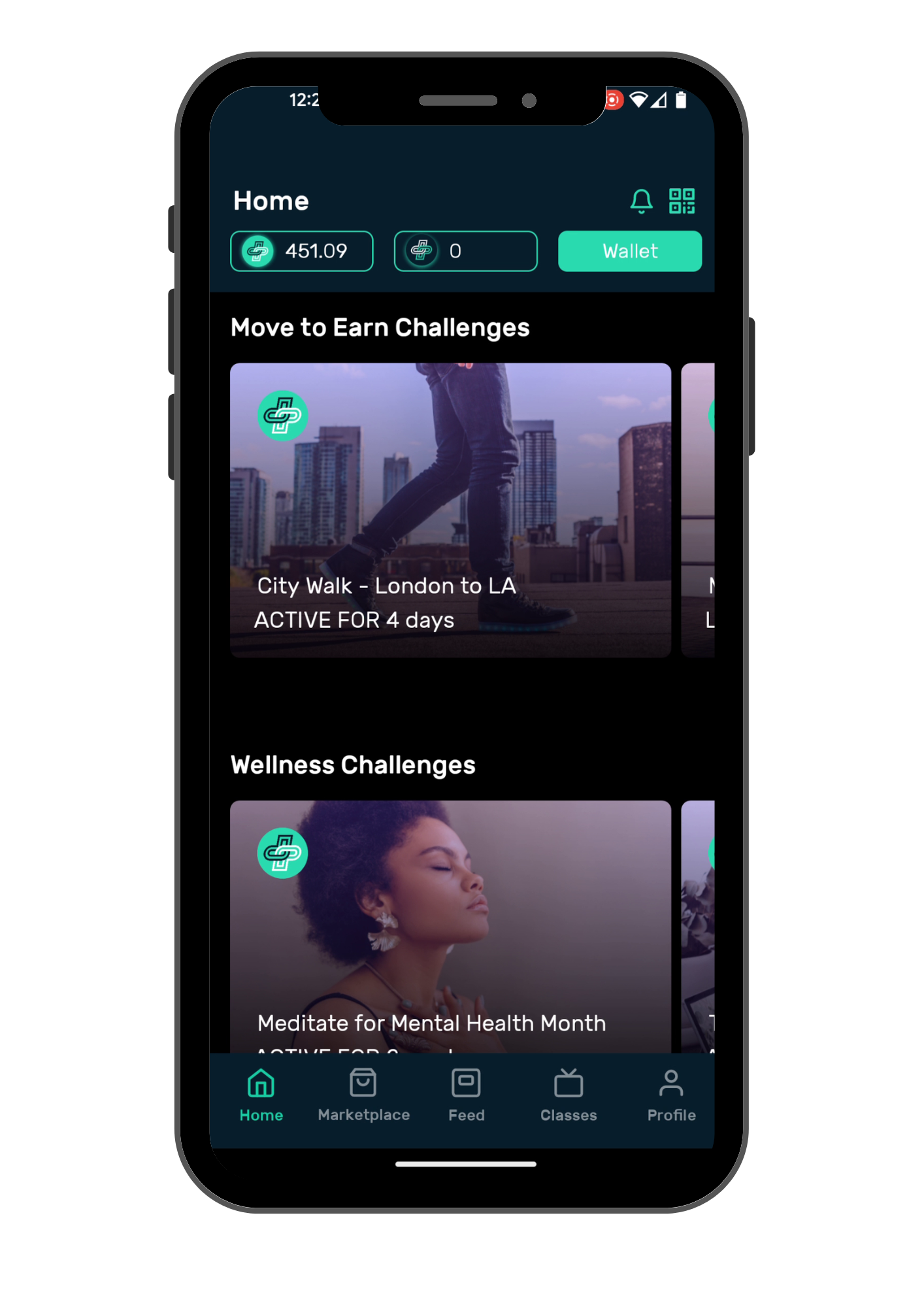 Provide PUML App access to built-in health applications: Apple Health, Google Fit; or connect your wearable.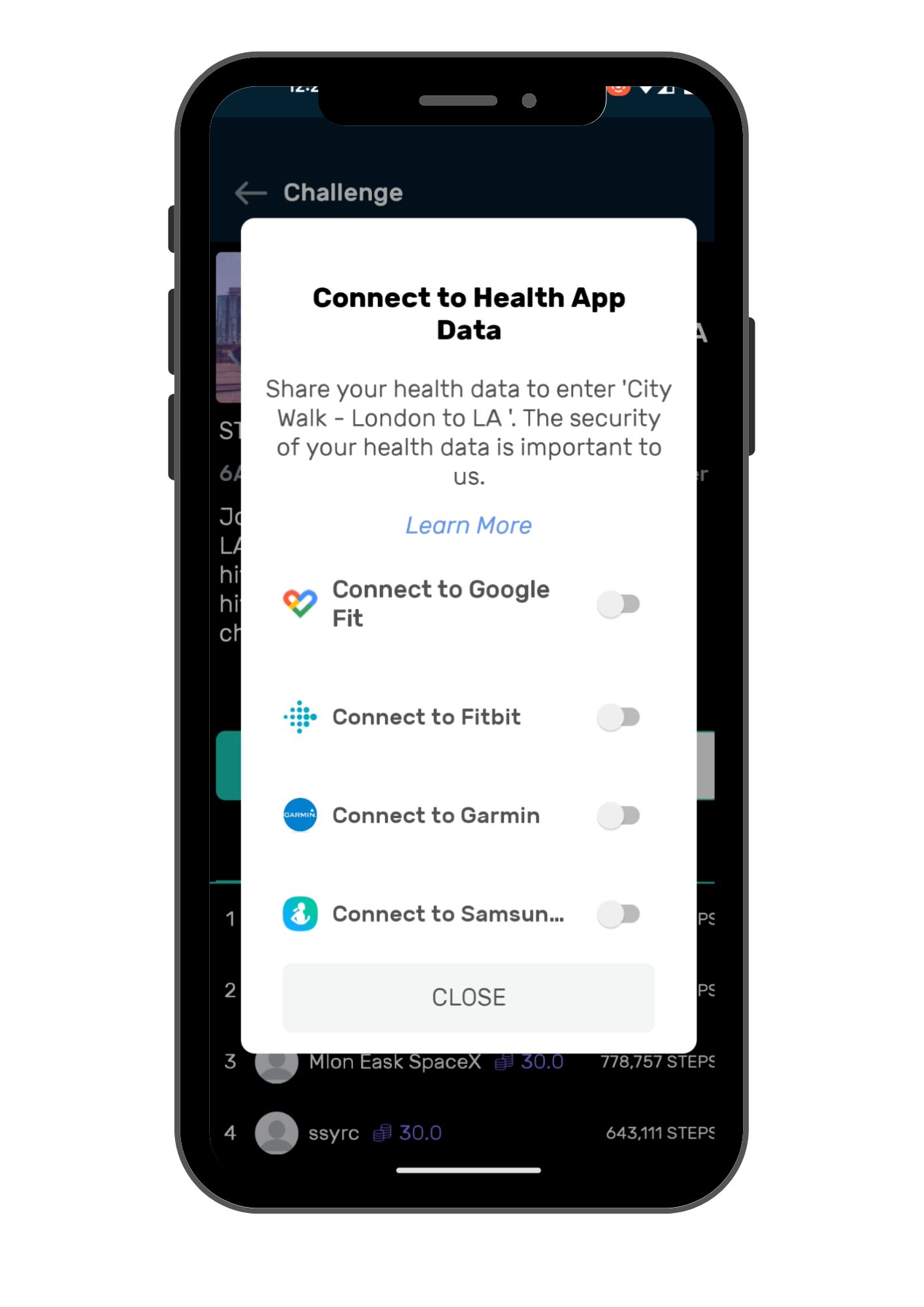 Each day, PUML counts the amount of steps you complete. Claim your daily steps before the timer expires and earn PUML in-game token. Maximum of 2000 steps can be claimed each day.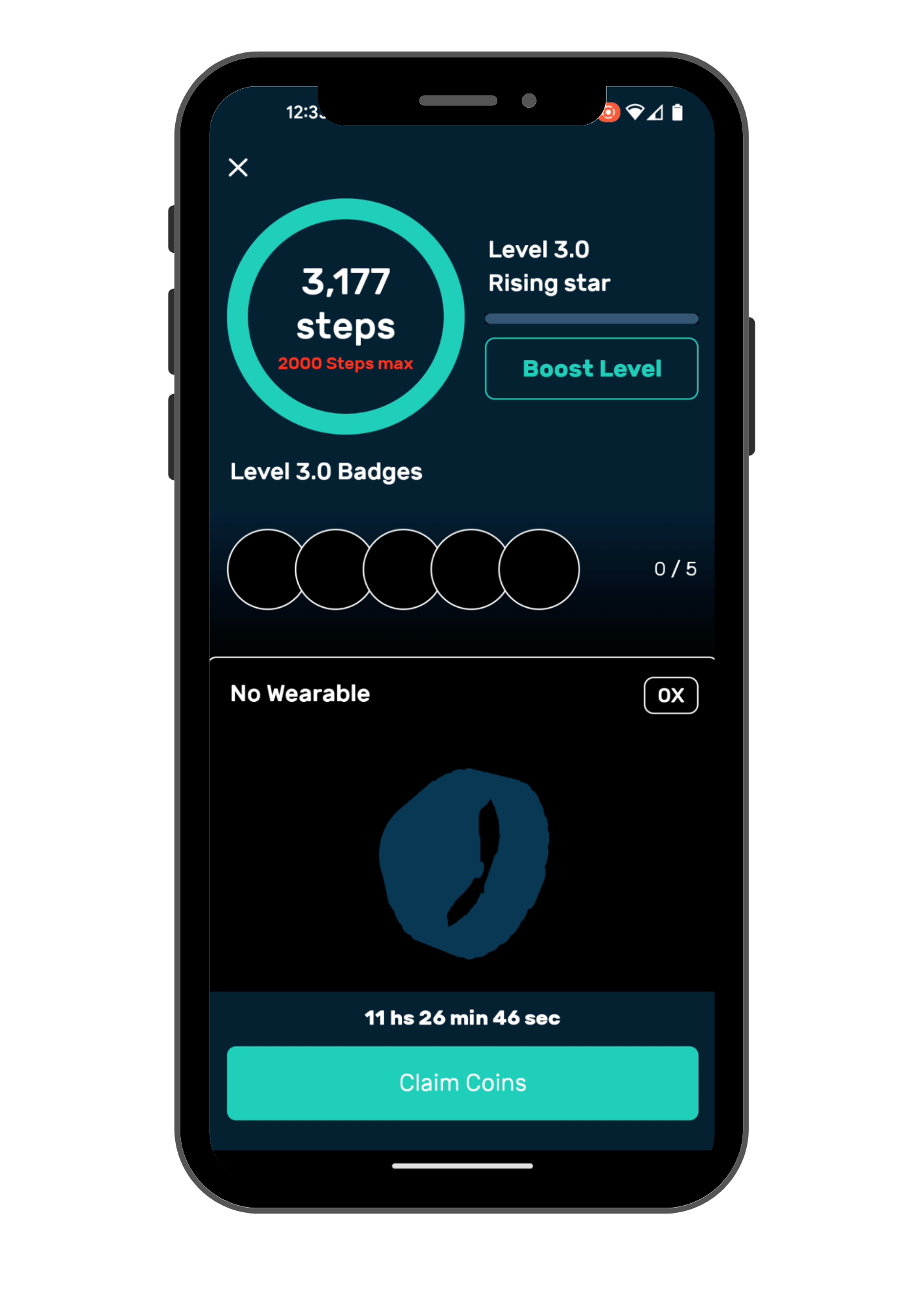 Coming Soon:
User Levels – Increase by completing challenges. Boost feature coming soon.

Badges – Collect badges for completing challenges to increase user level.

Wearables – Increase max Daily Claim Step Limit, multipliers, and more. Coming soon.
Soon, you will be able to increase your in-game rewards by: purchasing WearX or athlete NFTs, boosting user levels, and collecting badges.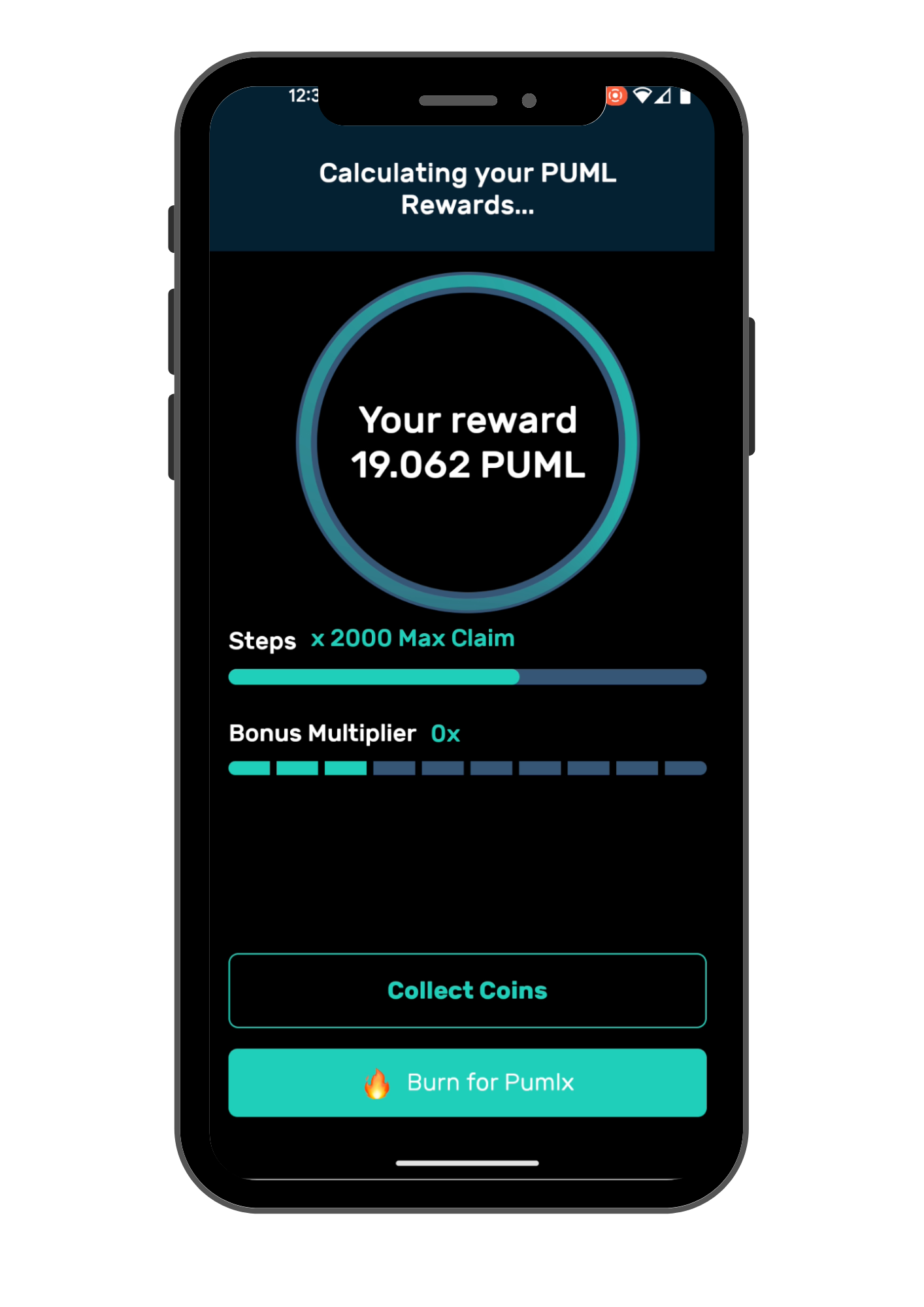 PUML can be exchanged for real-value items, from gift cards to NFTs in our marketplace. They could also be donated to a charity close to your heart.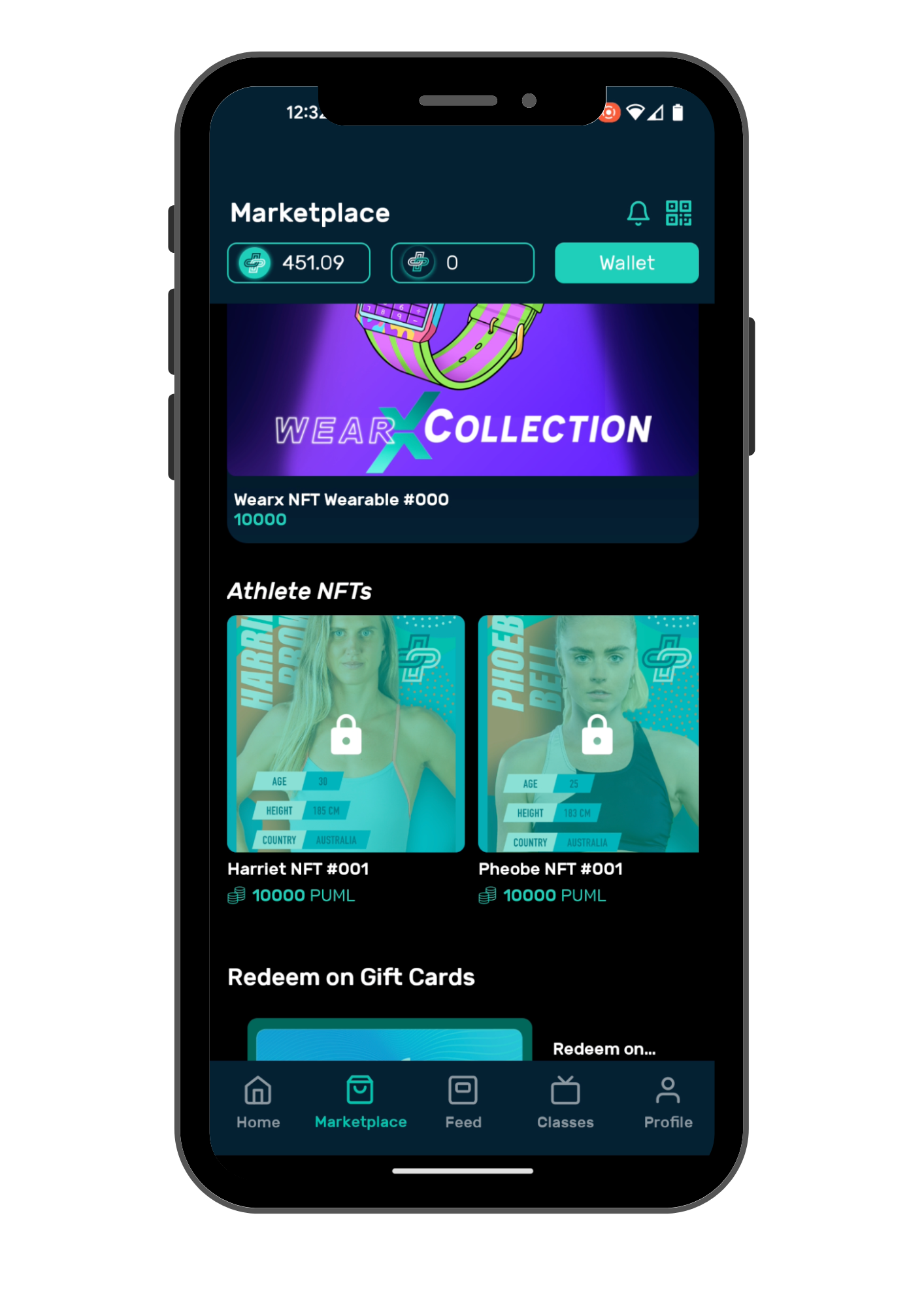 Easily top up your in-game PUML with FIAT to complete purchases if you have insufficient PUML.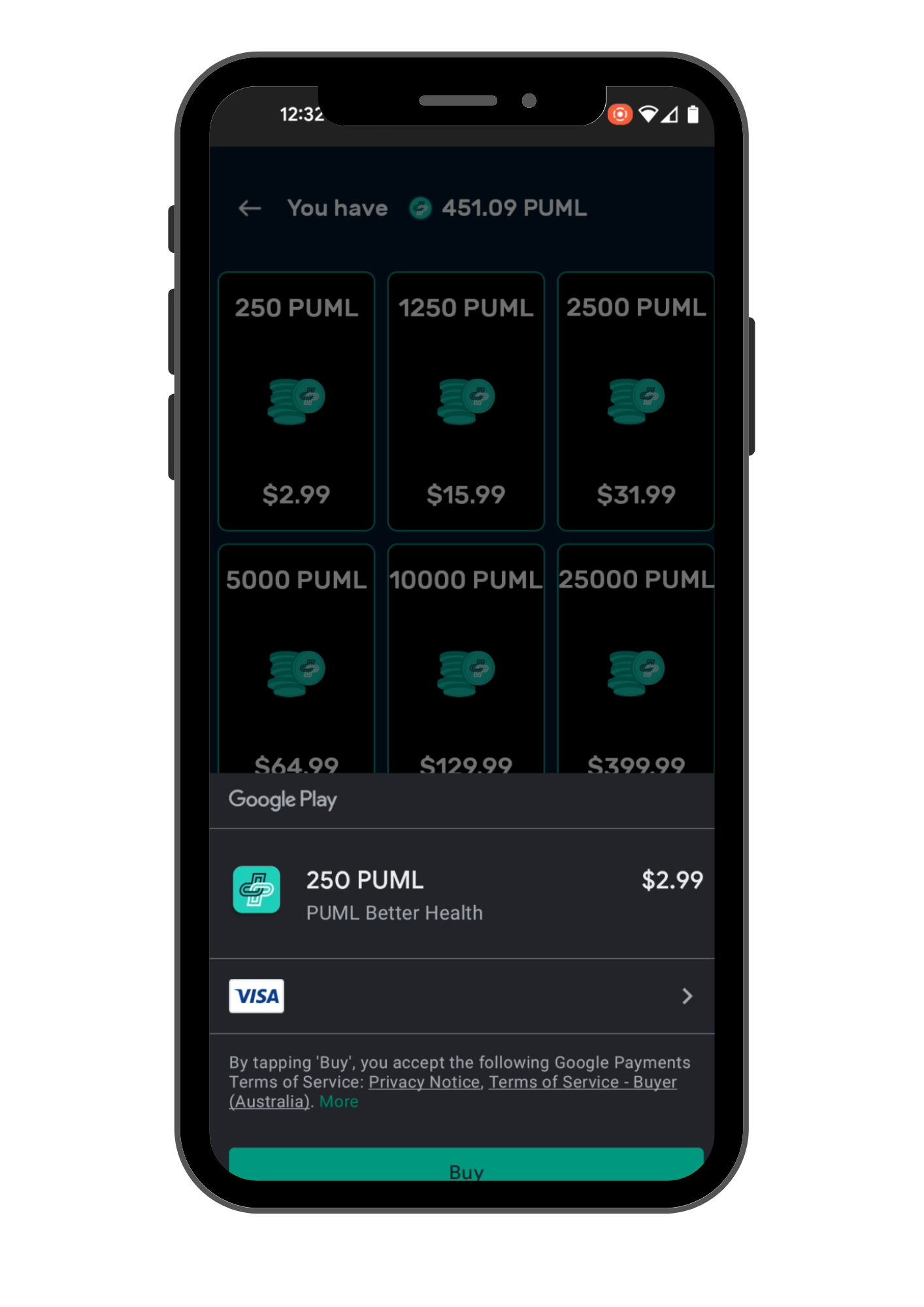 PUML features a wallet where you can manage your PUML, see the latest activity, and generate a custom invite link that rewards you. Coming Soon: Burn PUML to get $PUMLx.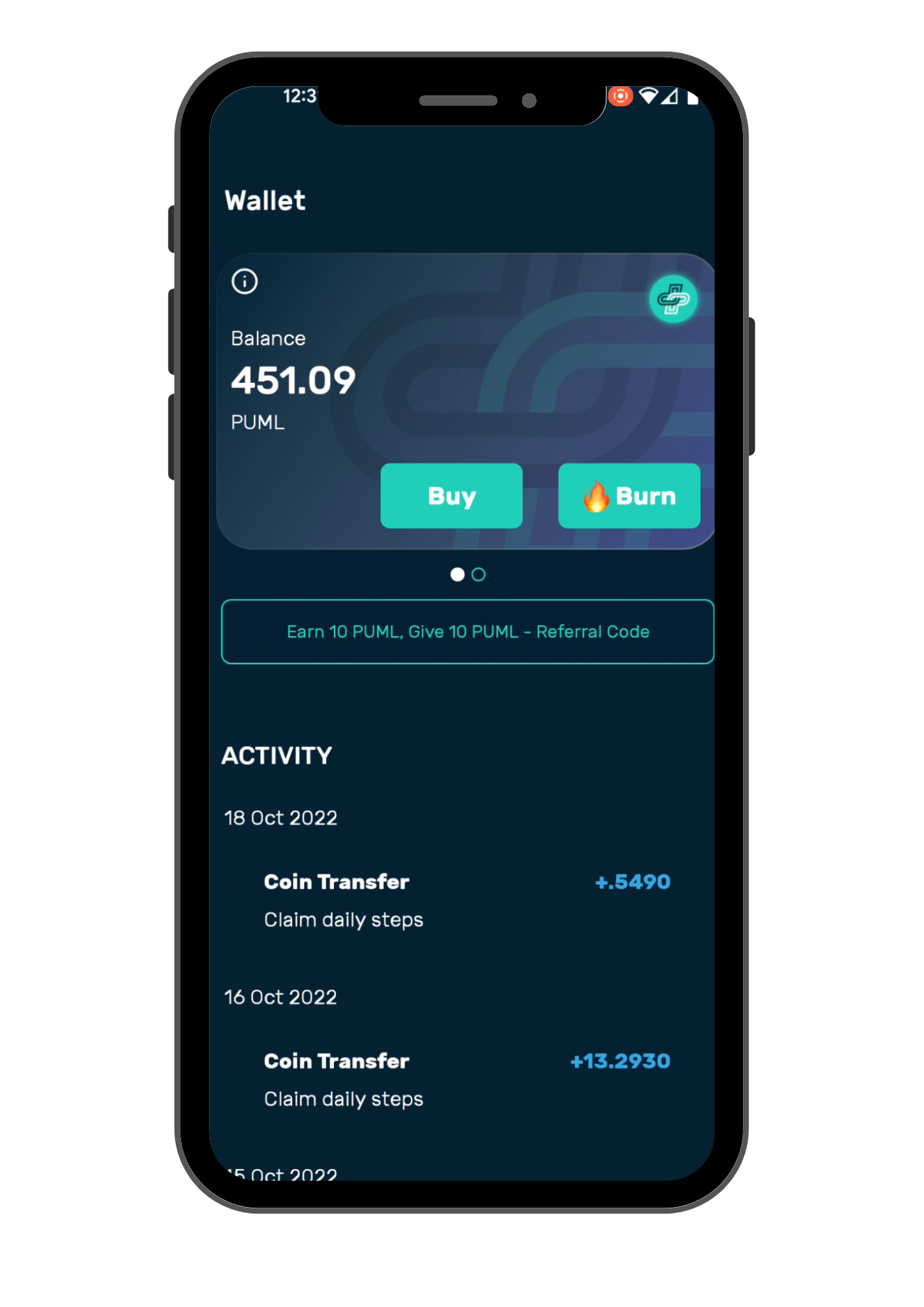 PUMLx is our new token that is building the foundation for the world's first Fitness Metaverse. Built on the Ethereum platform, PUMLx tokens are true crypto assets compatible with third-party wallets, exchanges, listings, and more. You can use this page to connect to sponsors.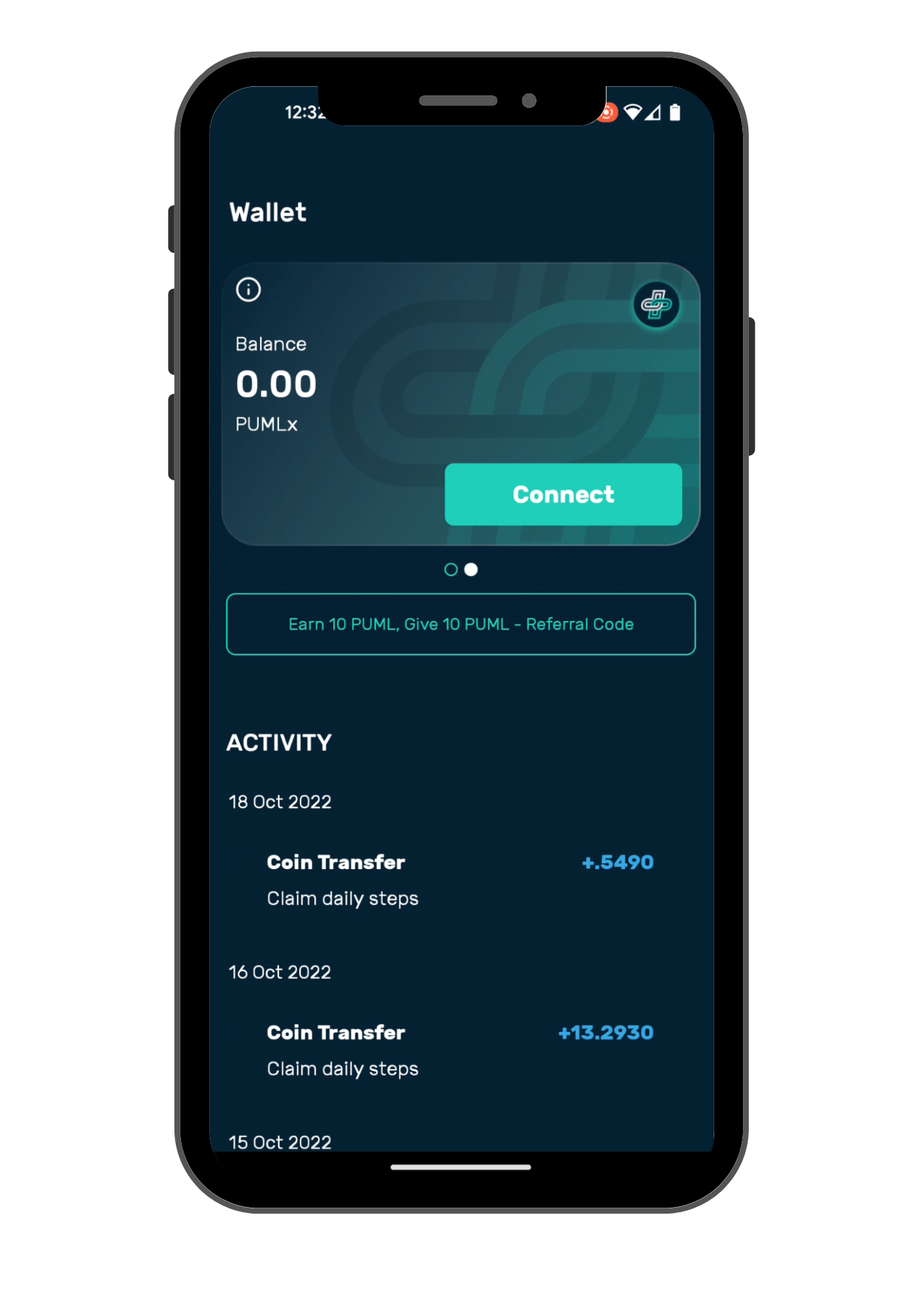 Access a library of classes
Power up your health journey with additional features and access 1000s of on-demand health and fitness videos, paid on a monthly or yearly basis.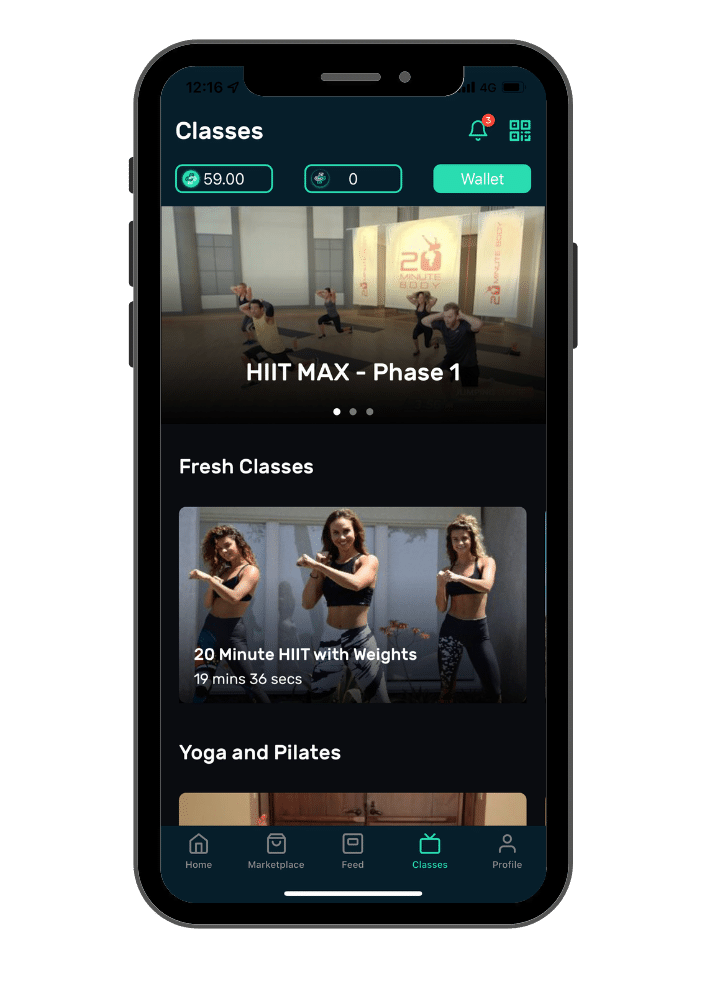 How do I sign up?
Signing up is easy. Download the PUML App from the Play Store or App Store on IOS.  Enter your mobile number and follow the prompts. Create a passcode, and you are set to go.
How do I start earning?
The PUML app features loads of different challenges from physical to wellbeing. PUML creates new challenges that you can complete to earn PUML. Each challenge has a leaderboard. Each challenge has different rewards (i.e. 20 PUML to top performers, etc). Simply join the challenge, and connect with either your built-in health Apps or different wearables. The process is super simple, you'll be earning in no time.
What if I do other sports, can I still earn?
Using the Add Activity button, you can manually track different health activities ranging from weight lifting, yoga, cycling, swimming, and so much more.  Simply add how long you have been exercising and your activity will be converted to its steps equivalent. To complete the process, just upload a photo of you doing the activity and press Post!
Can I earn for meditating?
PUML is more than just physical challenges. We care about mental wellbeing too. Join meditation challenges and relax.  Choose between video-guided or timed meditations Enter your current emotional state, and start meditating. All challenges are eligible for PUML rewards. Discover the challenges in the App to find out more!
How do I claim daily steps?
To claim your daily steps, go to Claim Your Steps button. Your total steps for the day is here. Max Claim Amount for the daily reward is 2000 steps. Your total reward is calculated by PUML using our built-in algorithm (subject to change). This algorithm will soon take into account your user level, which you can increase by: completing challenges, collecting badges, purchasing NFTs, etc.  Your steps and ability to claim expires at the end of the time shown. To finish Claiming Steps, go to Claim Coins and then Collect Coins. Congratulations. Your reward will be added to your PUML wallet.
How much will I earn for daily steps claim?
You will earn PUML (our in-app only token) via exercising and syncing health data to the app. We have developed an algorithm which calculates the amount of PUML you earn based on a series of factors including: user level, badges held, NFTs held, and more.
What does someone do with PUML once they have it?
Once a user has earned PUML, their in-app experience will instantly elevate. From here, users can access paid challenges, paid classes, redeem their PUML for in-app purchases (gift cards, fitness equipment, etc) or burn their PUML for PUMLx via our web app.
Are all challenges free to join?
At the moment, all challenges are free to join and have their own individual rewards. Soon, we will be introducing paid challenges. Paid challenges will be an exciting way for users to earn more PUML for their commitment to long-term exercise. Challenges will include (but are not limited to) meditation, sleep, hydration, running, etc. Further, Challenges will exist to incentivise group exercise, thus allowing users to complete them with or compete against their friends. It will be necessary for a user to use PUML in order to participate in a paid challenge; if a user hasn't earned enough PUML but would still like to engage in a challenge, they can do so by purchasing a "pack" of PUML using our fiat on-ramp.
Are the fitness classes free to watch?
We offer highly accessible and affordable access to a huge library of fitness classes.
Video Collection
Fitness and wellness videos
1000+ OnDemand Video Classes
Action items & mini-challenges
Live Workouts
Classes with certified instructors
Tune in from anywhere
With multiple class options
Coming soon: Paid Classes
Paid Classes will enable users to interact with fitness professionals and learn from the best, from the comfort of their own environment. Classes can include martial arts, personal training, yoga, guided meditation and much more. Further, Classes will help to encourage group virtual exercise or 1 on 1 sessions with our world renowned coaches.
It will be necessary for a user to use PUML in order to participate in a paid class; if a user hasn't earned enough PUML but would still like to engage in a class, they can do so by purchasing a "pack" of PUML using our fiat on-ramp.
What can I spend my PUML on?
In-App purchases will allow users to spend their PUML for tangible and intangible items. This can include smart watches, gift cards, metaverse items, fitness equipment, etc. In-App purchases will give those who are Web2 native a way to redeem their in-game only tokens for useful items and Web3 natives a way to earn something tangible for their hard work.
What will the burning process from PUML to PUMLx entail?
This will be both an educational tool and a Web3 native tool – we want to ensure our Web3 natives are taken care of and our Web2 users have the opportunity to learn about DeFi. Burning PUML will be done via our PUMLx web app https://pumlx.com with the specific ratios still to be defined. The in-app flow will have users earn PUML and in time learn of their ability to burn for PUMLx (and the benefits of being able to do so).
What is the purpose and value of PUML and PUMLx?
PUML is the sole token that the entire in-app ecosystem is built off of. The in-game only token enables users to access every experience within the app (classes + challenges) as well as our in-app purchases. Further, PUML will act as a bridge between the Web2 and Web3 world – it enables those who are not Web3 native to participate in the PUML app; it's closer to a Web2 game token, rather than a cryptocurrency/asset.
With this in mind, PUML will be positioned as a token with infinite supply, no intrinsic value and no tradeability. Eventually, once a user has earned enough PUML and is either Web3 native or has experienced enough of the PUML ecosystem to build their Web3 confidence, they may choose to burn their PUML for PUMLx. PUMLx will act as the broad PUML ecosystem's utility token (and eventually governance token) which will be tradeable and have intrinsic value tied to it. PUMLx will further unlock DeFi incentives and rewards for the wider PUML ecosystem.
PUMLx will be able to do everything a normal crypto asset can with staking rewards, asset swapping, market trading, etc, being available at the time of launch. As PUML will be releasing Digital Wearable NFTs and Athlete NFTs in order to bolster the ecosystem and allow users to unlock more experiences, PUMLx will act as a way for investors to purchase said NFTs. Initially, PUMLx will be speculative by nature but eventually it will aid in the growth and trajectory of the PUML ecosystem as it transitions from Utility to Governance.