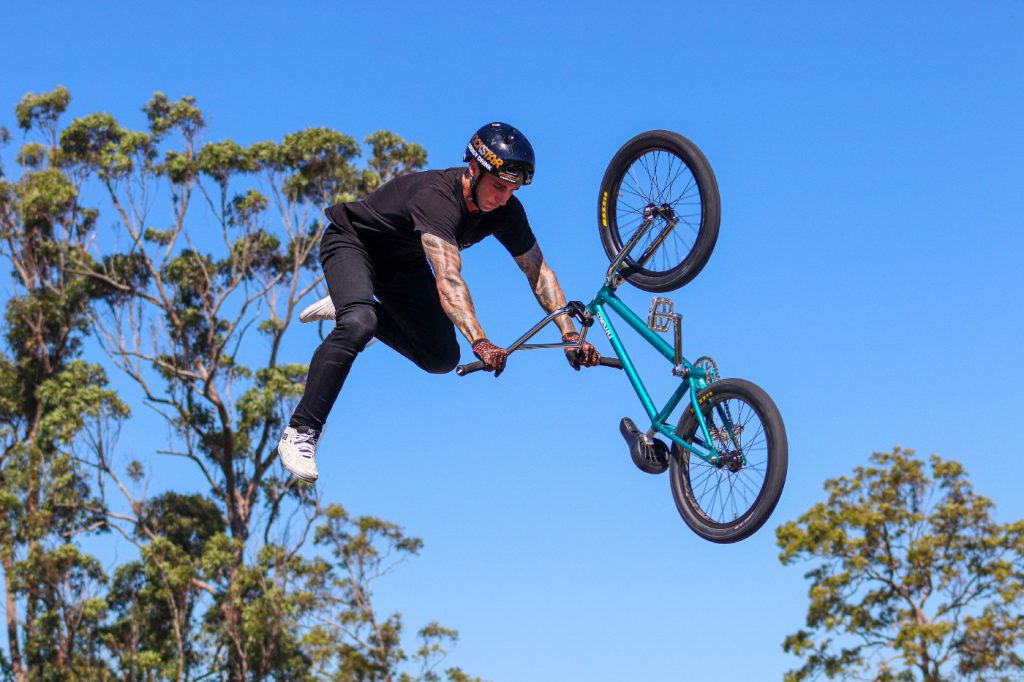 Australian Gold Medallist and Professional Dirt and Park Freestyle BMX Rider, Logan Martin, was just 12 years old when he first tried Freestyle BMX at his local park. Bitten by the bug, he's gone on to tear up the professional circuit and win a large number of awards.
His first trip abroad was for the Paris FISE X in 2012, where he placed first and made a splash in the world of competitive BMX riding. In 2016, in his first-ever X Games debut, Logan took home silver in the Park category, making him the first rookie to score a BMX Park medal since Brazilian Diogo Canina in 2008.
2017 saw Logan claim his spot as the Inaugural UCI Freestyle World Champion. In 2018 he won Gold at the Nitro Circus World Games and silver at the 2019 UCI World Championship.
In 2019, after his local training facility closed, he built his own competition-sized (30m x 15m) BMX park in his backyard at a personal cost of $85,000 (Naming it Logan Land). Fortuitously, this investment allowed him to continue training during the COVID-19 lockdowns when his peers were forced to stay indoors.
Come 2021, Logan Martin was fully prepared to represent Australia in the inaugural Men's BMX freestyle event at the 2020 Summer Olympics in Tokyo, where he went on to win the gold medal. This stunning victory was secured in just his first time run at the Ariake Sports park. None of his competitors could match his top time of 93.3 seconds.
"It's amazing to be here at the first-ever Olympics for freestyle BMX, I've been doing this a long time, and I'm stoked to represent (the sport) on the world stage…It's a great move for the Olympics having freestyle BMX, skateboarding, and surfing, and I'm super grateful to be an Olympian and to be an Olympic gold medallist that will forever live on."
Partnering for the Future of Sport
Beyond the BMX track and in-person competitions, Logan Martin is partnering with PUML for a soon-to-be-announced special project. An initiative to bring fitness, sport and health into the decentralised space where participants can own their data and be rewarded for reaching their goals.
PUML has been a pioneer in the decentralised fitness movement. In 2022 we were awarded Entrepreneur's Best Move-to-Earn App of the Year. We have empowered organisations to engage their entire workforce, increasing fitness and wellness more broadly. And in the consumer market, we have partnered with athletes to drive fitness challenges, enabling them to engage their fans, own their programs and bring health and fitness through the PUML platform to their community. We have already seen world-class athletes such as Chelsea Hodges, Phoebe Bell, Kiera Austin, and Taylor Smith come through the ecosystem.
Looking further ahead, PUML is bringing fitness into the metaverse, exploring how we can engage people in the real world to be more active by utilising blockchain principles and technology.
The benefit of the blockchain is in its decentralisation. Users are rewarded with real-world value rewards by simply being active and reaching goals. They own their data and can use it themselves to better improve their health and fitness.
Through blockchain and the metaverse, the possibility for real-world users to connect online with similar types of meaningful interactions is amplified. Logan Martin is working with us to dive deeper into these possibilities and bring to life impactful programs and platform functions that make the Future of Sport an inclusive, empowering movement that brings real change to real lives.
Learn more about PUML Better Health's Athlete initiatives and follow our news hub to watch what comes next.