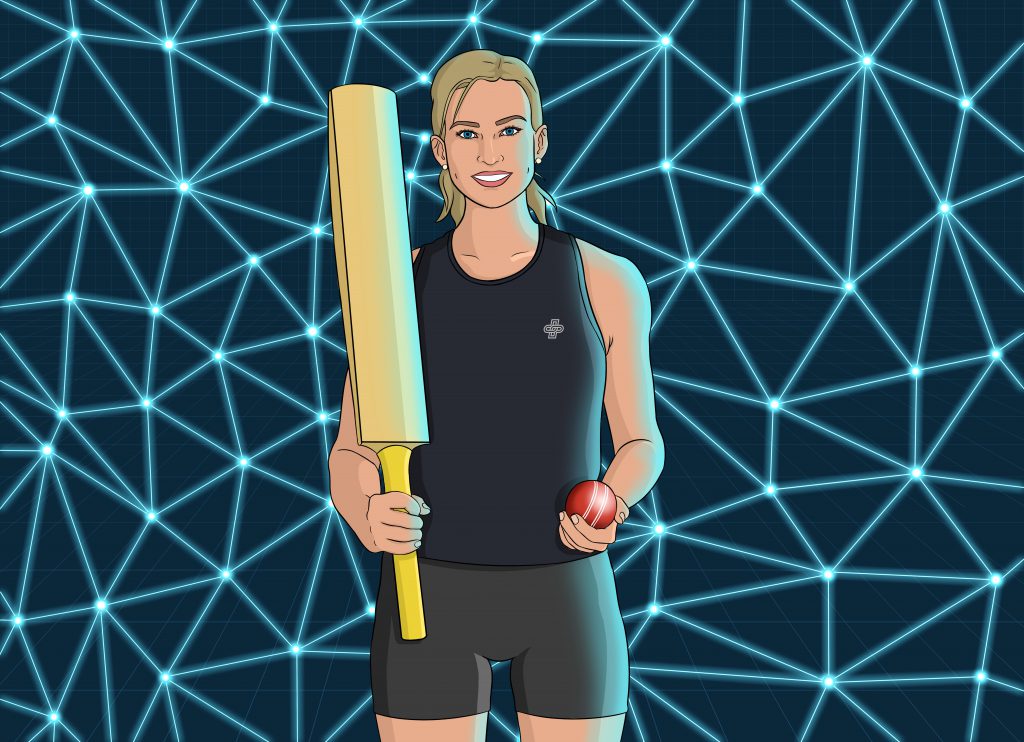 Australian cricketer, Holly Ferling, has been a sporting prodigy from an early age. At just 14, she made her debut in men's grade cricket, took a hat-trick with her first three balls and was name Queensland Junior Cricketer of the Year — the first woman ever to receive this accolade.
Before then, she was an accomplished netball player representing the Wide Bay Thundercats in the Queensland State Netball League. Team sports have been a lifelong passion, and cricket is her chosen path. In 2015, Holly was selected for Australia's touring party in the Women's Ashes in England. She was the first signing for the Brisbane Heat in the inaugural Women's Big Bash League, and she played for New Zealand's Northern Districts Spirit in the 2015–16 season.
After an injury in 2016, she dropped out of the Australian squad for surgery and recovery before bouncing back to join the Melbourne Stars' squad for the 2018–19 Women's Big Bash League.
Currently a Cricketer Commentator for Channel 7 and a player for the ACT Meteors and the Melbourne Renegades, Holly is a force to be reckoned with.
While training is an important aspect of maintaining her competitive fitness, Holly believes that overall wellness is holistic. She says she has found that having good mental health, enough sleep, and practicing healthy habits helps keep her balanced.
This is how she discovered PUML.
During the lockdown, step challenges on PUML helped Holly use the motivating charge of the community to get out and do something just for her. Listening to music, playing podcasts and going for walks became a nourishing form of exercise that was low intensity.
As a lifelong player of team sports, the community and social elements of PUML were hugely motivating for Holy. In her own words, "other people are essential". Achievements are only as good as when you can share them with someone. Sharing the hard times, too, helps everyone to lift each other up.
The community centricity and range of holistic programs on the PUML app inspired Holy to want to build her own community.
What is the PUML Train With Me Campaign?
PUML's Train With Me campaigns connect inspiring athletes with a community that is eager to engage and get active. For Holly, it's an opportunity to engage young adults and encourage their lifelong journeys of good heath and wellbeing.
Collaborating with women in sport, PUML encourages athletes to develop their own challenges based on their unique values and passions. Step challenges, hydration challenges, mindfulness, journaling and many other styles of challenges are being developed by enthusiastic athletes excited to share their wellness hacks with their community.
Supported by the Queensland Government's ActiveKIT program, PUML is recognised as a truly impactful way to engage users, not just to sign up but to get involved and build better lifestyles.
Blockchain technology enables this community-centric design for online communities. PUML's decentralised software creates more significant incentives to use the app, which leads to greater user participation. PUML can offer real rewards on the blockchain, such as PUML Coins and NFTs of athletes with real intrinsic value.
PUML coins can be used to purchase real goods and service. You can donate them to charity partners through the platform. NFTs can give you access to exclusive events or athlete training opportunities. This type of engagement transforms the way athletes can provide real impact to their communities. They're not just helping people improve their overall well-being. They're rewarding them for doing so.
"The Train With Me Program allows youths to start with where they're at. It doesn't matter what level of fitness you are. There is something out there for you. The best thing you can do is take that first step, take the leap, have a go. You never know what might be around the corner." — Holly Ferling.
JOIN HOLLY'S CHALLENGE TODAY!
The Holly Ferling 'Train with Me' challenge runs from September 1st — September 30th, 2022. Download the PUML Better Health App to join the challenge!