There are a couple reasons your steps might not be syncing. Please review these common issues.
You've just signed up
Sometimes it takes a while for steps to sync from your health app or wearable to the PUML app. If you have just joined PUML, please wait 24 hours and then check to see if your activity data has updated.
Your wearable hasn't sync'd to the Cloud – Garmin/Fitbit
Wearables have 2 sync features that need to be complete before PUML can get the data.
1.> Sync to your phone: make sure your bluetooth connection is on in order to connect the wearable to your phone, then check your wearable app is showing the connection is valid.
2.> Next you need to sync your phone data to the Garmin or Fitbit Cloud
You sometimes need to tap the sync icon to force your phone to update.  See below example using Garmin, the icon is the rotating arrows in the top right:

You didn't accept the permissions when you installed the PUML App.
You can simply check PUML has the correct permissions it needs by going to Settings on your phone.
Phone Settings –> Health –> Data Access, Sources & Devices –> PUML –> Turn All Categories on
For example on iPhone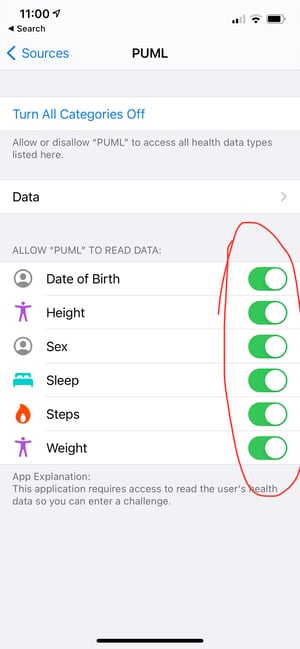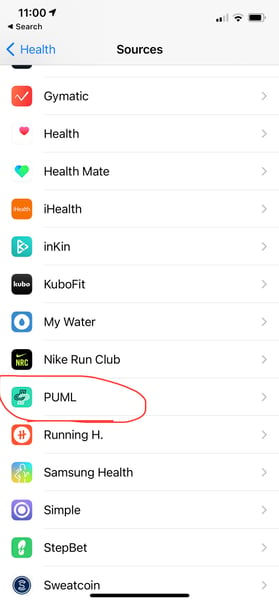 Deleting the app and re-installing will also prompt you to accept permissions.
You've entered steps manually or joined different challenges with different wearables.
If you are connecting to a fitness wearable or app, make sure not to enter any steps manually before PUML is connected to your device. You must connect to your fitness device first and after you can also manually enter activity that was not recorded by your device. (Manual activity entry is only available for corporate challenges, not public challenges)
If you have manually entered steps but also want to connect to a fitness device, please follow these steps.
1. Make sure you have the fitness app you'd like to use installed on your phone (Apple Health, Google Fit, Fitbit, Garmin or Apple Watch).
2. Go to your challenge page and hit the Exit Challenge icon. Before exiting, take note of how many steps you've manually entered, as they will be cleared and you will need to re-enter later.

3. Re-enter your challenge and make sure to select the device you'd like to use when prompted.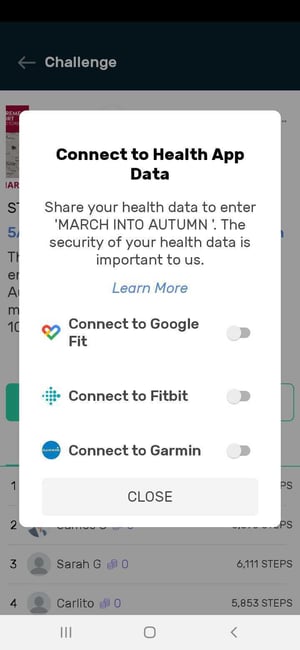 4. Once you've re-entered your challenge, you will need to re-enter any steps you've manually entered previously (when you exited the challenge they will have been cleared). Click the manual entry icon to enter steps manually.

5. You will also need to manually enter your steps under any team you join. The steps are tracked separately so you will need to re-enter them under both the main challenge and the team challenge.
You're using Google Fit
If you are connecting to Google Fit please check out this article to make sure you are properly connected. Since you can have multiple Google accounts, sometimes issues arise with activity syncing.
A third party app is connecting to your fitness app
If a non-approved fitness app is updating your Google Fit or Apple Health, your steps won't be counted. Currently, the only approved apps that can update your Google Fit and Apple Health are:
Garmin
Fitbit
Apple Watch
Samsung
NOTE: Other wearables should work if you connect them to Google Fit on Android and Apple Health on Apple