The #walkitoff challenge
sponsored by

#walkitoff and Win 1 year of Hustle Cover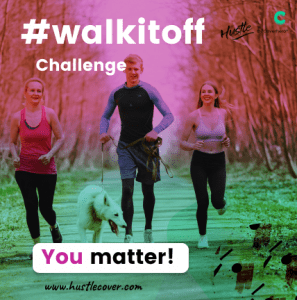 There is nothing more important than your physical and mental wellbeing, especially when you are faced with the daily hustle of running a business, setting up your side hustle or worrying where the next dollar will come from during this pandemic.
Yet, we tend to ignore our physical health when we are busy hustling or when simply Netflix calls. Taking a 30 min walk each day has shown to significantly improve both mental and physical health. Meaning more energy, clearer thinking and happier mornings and days.
So, how do you eat an elephant? Well you start with the tail of course.
At Hustle we will reward you every step of the way
Competition Terms and Conditions
Information on how to enter and prizes form part of these conditions of entry. These terms and conditions may be amended from time to time, in accordance with state regulations.
Except where advertised differently, entry is only open to all residents of Australia over the age of 18 yrs. Coverhero and PUML's employees and their immediate families are ineligible.
To enter, participants must have successfully participated and completed the PUML #walkitoff challenge by Hustlecover by Coverhero and PUML follow the directions in PUML app as part of the challenge and completed walking 203,000 steps during a four week period, filled-in their details including, but not limited to, name, email and mobile number; and agree to be automatically signed-up to the Hustlecover newsletter.
The competition period starts on Friday 4th September 2020, 00:01a.m. (AEST) and ends on Friday 2nd October, 2020 at 23:59 p.m. (AEST) (the Promotional Period).  Entries will only be accepted after Saturday 3rd October, 2020 at 00:01am (AEST) once the #walkitoff challenge finishes.
All valid entries at the end of the specified Promotional Period, will be entered into the prize draw to win the nominated prizes.
Except where advertised differently, entries are limited to one per person. The use of any automated software or any other mechanical or electronic means that permits the participant automatically to enter repeatedly is prohibited ("Repeat Entry Device"). If the Promoter reasonably believes that an entrant is using any Repeat Entry Device, the Promoter may disqualify that entrant without notice.
Incomprehensible and incomplete entries will be deemed invalid.
PRIZES
Prizes will consist of one (1) cover for a period of 12 months from the inception date of cover, randomly selected from the prize pool. The prize will be valued at between AUD$600* and AUD$4745* (RRP) inclusive of GST. There is 1 prize to be won. The total prize pool will be valued at AUD$4745* (RRP) inclusive of GST. *Value will be determined by the age, occupation and income of the winner.
Subject to clause 12, all prizes are as depicted or described in the promotions for the competition and are not subject to change.
Prizes are not transferable or cannot be exchanged for cash.
Hustlecover accepts no responsibility for any loss, damage, or injury incurred from entering the competition or in connection with taking up the prize.
No responsibility or liability is accepted for any variation in the value of the prizes. In the event that any prize item is unavailable, Hustlecover reserves the right to substitute a different prize item of equal or greater value, subject to approval in accordance with state regulations.
Subject to clause 15, prizes will be delivered to the winner within one (1) month of the winner being selected.
PRIZE DRAW AND WINNER NOTIFICATION
All prize draws will take place at Hustlecover's premises on 6th October, 2020 at 12:00 noon (AEST). All winners will be notified by phone and email within 2 days of the end of that competition.  All winners will be published no later than 30 days of the prize draw following each competition on  www.hustlecover.com.au
UNCLAIMED PRIZE DRAW
The unclaimed prize draw will take place three months after the draw, at Hustlecover on Tuesday 5th January, 2021 at 12:00 noon (AEST).
Hustlecover will conduct such further draws as are necessary in order to distribute any of the prizes. Winners of unclaimed prizes will be notified either by phone or email within 2 days of the unclaimed prize draw. Winners' names will be published no later 30 days of the redraw of the relevant prize.
FINAL CONDITIONS
Hustlecover reserves the right to request information to verify the validity of entries including: proof of identity and/or proof of Australian residency status at the nominated prize delivery address. Acceptance of verification information is at the discretion of Hustlecover. Hustlecover reserves the right to disqualify any entrant for tampering with the entry process or for submitting an entry that is not in accordance with these conditions of entry.
It is a condition of accepting the prize that the winner must comply with all the conditions of use of the prize and the prize supplier's requirements.
No responsibility will be accepted for late, lost or misdirected entries. All entries are deemed to be received at the time of receipt into Hustlecover and PUMLs database, and NOT at the time of transmission by the entrant.
If for any reason this competition is not capable of running as planned including infection by computer virus, bugs, tampering, unauthorised intervention, fraud, technical failures or any other causes beyond the control of Hustlecover which corrupts or affect the administration security, fairness, integrity or proper conduct of this promotion, Hustlecover reserves the right to disqualify any individual who tampers with the entry process and to cancel, terminate, modify or suspend the promotion subject to the approval of the gaming authorities in each state and territory, where required. Tampering includes the use of Repeat Entry Device software.
Hustlecover is not responsible for any problems or technical malfunction of computer on line (or wireless) systems, servers, or providers, computer equipment, software, or technical problems resulting from participation or sending or receiving of any communication or of any materials in this competition.
All entries will become the property of Hustlecover. The information entrants provide will be used by Hustlecover for the purpose of conducting this promotion. Hustlecover may disclose entrants' personal information to its contractors and agents to assist in conducting this promotion or communicating with entrants and to state and territory lottery departments and winners' names may be published as required under the relevant legislation. Hustlecover may also on-provide details to a co-promoter for promotional and marketing purposes.
By entering this competition, you give Hustlecover the right to use your name, address, email address and mobile number for promotional, marketing and publicity purposes outside of the competition.
Where a competition is promoted on Facebook, entrants acknowledge this competition is in no way associated with, administered or endorsed by Facebook. Any information disclosed by entrants entering this competition is not provided to Facebook.
Hustlecover is a trading name of Coverhero, 8 Bridge Street, Sydney, NSW 2000. You can contact Coverhero at hello@coverhero.com.au
Terms and Conditions For the winner of 1 year Hustlecover
The cover provided is for a period of 12 months from the inception date of cover.
Future renewal(s) and any subsequent premiums are the responsibility of the insured person and must be paid by the insured person for cover to continue past the expiring date of the original 12 months policy period.
A renewal notice will be sent to your nominated email address at least 30 days from the expiry date of cover. Instructions on how to renew your cover will be provided within the email and correspondence provided.
Any claims that occur within the 12 month policy period may affect future premiums and/or cover provided.
We at our absolute discretion may decide not to renew your cover by providing you with written notice at least 14 days from the expiry date of cover.
The winner has the option to select either Gigster of Hustle Pro insurance.
All cover is subject to the policy terms and conditions. It is your responsibility to read and understand the cover provided. Please visit our website hustlecover.com.au for a copy of the policy wording/PDS.
If you decide to cancel cover within the 12 month policy period, no refund will be applicable.